Last week, DigLibArts members Professor Andrea Rehn and Dr. Anne Cong-Huyen traveled to University of Toronto-Scarborough to attend the Digital Pedagogy Institute for undergraduate teaching. Representing both Whittier College's DigLibArts and FemTechNet, Andrea and Anne  presented on a Twitter tag game that they are developing for FemTechNet's Distributed Open Collaborative Course, or DOCC, which will be incorporated into some of Professor Rehn's courses this year.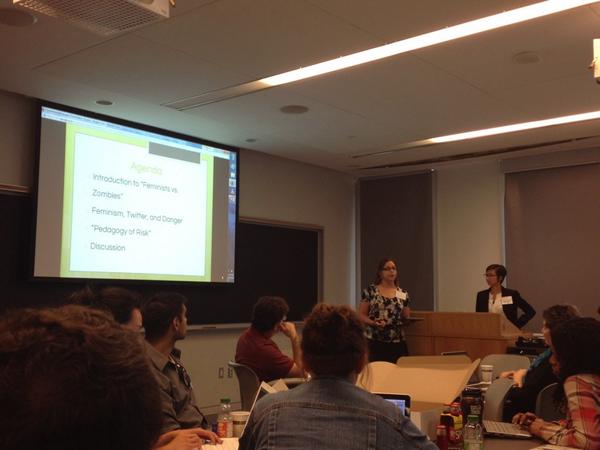 The game, "Feminists vs. Zombies" is a remix of TvsZ, itself an adaptation of Humans vs. Zombies to be played via social media. TvsZ was created by Jesse Stommel and Pete Rorabaugh, who originally described the game as being "an epic zombified experiment in Twitter literacy, gamification, collaboration, and emergent learning." The remixed "Feminists vs. Zombies" would eventually be implemented in multiple classrooms to allow students to connect and collaborate asynchronously across disparate geographic spaces and institutions as part of a larger nodal course structure that examines gender and technology. The talk introduced the game, offered examples of gameplay, and examined the game as part of a "pedagogy of risk," which places students and instructors in positions of vulnerability in the hopes of valuable potential learning.
For those interested, the entire talk can be read here along with slides from the presentation.
The talk was also recorded by UTSC and will be shared when it is made available. The institute itself was a larger event and a large range of academics, including faculty, librarians, archivists, and even students participated. Many examples of hybrid courses linking archival projects or community groups with classroom assignments and service learning projects were shared, and team at DigLibArts will be considering ways of incorporating some of these ideas in its own workshops, events, and curricula.
Here is a Storify of the tweets made by participants over the course of the week: